Oops! I Forgot to Save For Retirement eBook
A step by step guide to retirement financial lifestyle planning for Jamaicans to educate and empower you to give you the tools to start, tweak, maximize your planning for the three life events that trigger a guaranteed lifetime indexed income: old age, disability and death. Everyone whether living in or outside Jamaica will soon be able to purchase and download a copy for themselves to assist them in achieving a financially secure retirement lifestyle.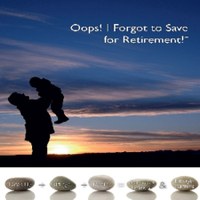 This eBook is intended to be a guide for assisting Jamaicans, at home and those in the Diaspora, with retirement financial and lifestyle planning matters. However, it will also be useful for anyone, in our global village, who is looking for sound principles on retirement financial and lifestyle planning. Whether you are aged18 or 60+ it is expected that this book will assist you to star t the process of changing the traditional mindset of retirement being only an age-related planning process. Instead you will see it in a similar approach as we do at Milestones: a holistic approach for those life events which trigger a financial and lifestyle change as a result of disability, old age and death. In other words, these life events are an aspect of one's overall financial and lifestyle planning goals, which is focused on achieving a guaranteed lifetime income for you and your heirs. Milestones & Lifestyle Planning Services has crafted each chapter with a focus on each decade of one's life star ting at age 20. In addition we believe that retirement financial and lifestyle planning is a team effort by encouraging individuals to network with their families, employers and/or trustees of Jamaica's Retirement Savings Plans to utilize the information presented along with an understanding that the relevant laws of Jamaica govern these savings plans. These laws should form the basis of your planning and team discussions. This is especially important in light of the misconceptions about State Benefits and lack of awareness by many Jamaicans, from all walks of life, that these benefits are insignificant. The result has been that there are significant lost benefits, which were paid for with employment wages and salaries. In addition employees are unaware of their legal rights to benefits. Our eBook focuses on topics that the wider public often does not take into consideration. Matters such as: sources of retirement income,coordinating State benefits with Jamaica's Approved Retirement Savings plans and cash value life insurance policies. Additionally, consideration is given to estate planning and how it is incorporated into one's retirement financial and lifestyle plans. We hope this eBook will go some way towards increasing your knowledge about planning by the decade for your retirement financial and lifestyle goals. We also expect that as a result of this eBook you won't get to retirement and say Oops! I forgot to save for retirement.